"Mushrooms" Grades 4 - 7
Pretty red and white mushrooms nestled on the forest floor!
New for 2021/2022

Grades 4 - 7 (Oil Pastel)

2 STARS out of 5
difficulty
rating.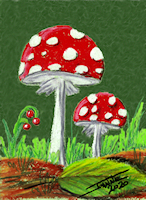 A Junior version of this lesson is available for K-3!
Use your BACK button to return to the selection menu for your grade level!