Supply and classroom prep sheet for

Charcoal "Crocodile Sr."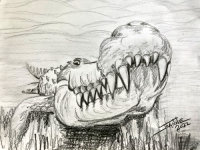 Classroom set up:
Supplies:
FOR CHARCOAL

Paper - 12"x18"

white

drawing paper (or 11"x17" copy paper)

Charcoal

(Standard medium willow charcoal sticks are the best)

Pencils

Erasers

Paper Towels

(one per student - plus some extra)

Fixative or Unscented Hair Spray (optional) - to spray onto finished artwork to "glue down" the charcoal and prevent smudging. Best done outdoors. Can be done at a later time.