Supply and classroom prep sheet for

Oil Pastel "Books"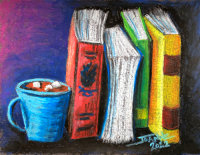 Classroom set up:
A page or image at the front of the room (visible to all students while they are drawing

at the desks/tables

)
will be needed for the directed drawing part of this lesson.


Due to COVID-19 we won't be gathering for circle lessons.




I will need either:




a sheet of chart paper or poster-sized construction paper


or

your document camera/projector set up (if available)




Please get everyone to clear desks (except for things they'll need.) We'll have more art time!
Supplies:
FOR Oil Pastel

Paper - 9"x12" or 12"x18"

construction paper (

BLACK

)

White Pencil Crayons or White Wax Crayons

(for sketching on dark paper - or peach, gray, light blue will also work!)

Erasers

Oil Pastels

- Please check boxes for WHITE & BLACK as these are the first to go!


Each student must have:



Colours I used: (students can choose other colours)
---

Please note: OIL PASTELS are required for this project. If you have SOFT pastels they are CHALK (not oil). Projects designed for Oil Pastel will NOT be successful using Soft or Chalk pastels. (Too smudgy! Sorry!)

---