Supply and classroom prep sheet for

Oil Pastel "Cow"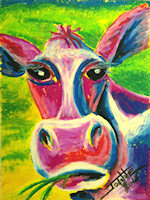 Classroom set up:
Supplies:
FOR Oil Pastel
Paper - 9"x12" construction paper (

yellow or light blue

)


(You may do these on 12"x18" paper but it will use more pastel and may take longer.)
Pencils & Erasers

Paper Towels



Oil Pastels - Please check boxes for WHITE & BLACK as these are the first to go!

Each student will need the following colours:

black
white

red


pink or purple (optional)



yellow
dark green
light green
dark blue
any other colours you'd like!

---

Please note: OIL PASTELS are required for this project. If you have SOFT pastels they are CHALK (not oil). Projects designed for Oil Pastel will NOT be successful using Soft or Chalk pastels. (Too smudgy! Sorry!)

---