Supply and classroom prep sheet for

Oil Pastel "Kite"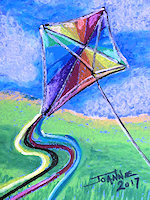 Classroom set up:
I will need an open floor area to gather everyone for the demonstrations and then we'll be working at the desks/tables.

Please get everyone to clear desks (except for things they'll need.) We'll have more art time!
A whiteboard or flip-chart page at the front of the room (visible to all students while they are drawing) will be needed for the directed drawing part of this lesson.
Supplies:
FOR Oil Pastel
---

Please note: OIL PASTELS are required for this project. If you have SOFT pastels they are CHALK (not oil). Projects designed for Oil Pastel will NOT be successful using Soft or Chalk pastels. (Too smudgy! Sorry!)

---